Nintendo Canada invites you to go bananas at the RioCan Yonge Eglinton Centre this Saturday, November 20th. Celebrate and capture the excitement at the launch event for one of the most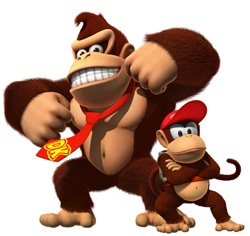 anticipated games of the year, Donkey Kong Country™ Returns for the Nintendo Wii™.
Witness "The Tsunami" Takeru Kobayashi, the king of competitive eating, take on Donkey Kong Country Returns in a banana eating challenge. Donkey Kong fans of all ages will be given the exclusive opportunity to play the new side-scrolling adventure before launch.
Free play begins on the upper level of the mall just outside the Toys R Us store at 1pm and runs until 4pm. The Banana Eating Challenge starts at 3pm sharp.
Seeing as I broke my Grinch streak by posting earlier about the YTV holiday show line-up, here's

a great gift idea from the folks over at Blurb. You can make the best gift ever – one that's totally original, highly individual, and available at the price you choose by creating your own beautiful, custom bookstore-quality photo book, cookbook, memoir, travel book, or almost any kind of book you want. If you want to know how you can get started, Blurb's own Amanda Zweerink is hosting two upcoming webinars:
* Tips and tricks on bookmaking to help you start – and finish – your book before gift-giving day rolls around
* The how-to on getting started with Blurb BookSmart® or Bookify™, their new online bookmaking tool
Thursday, November 18, 1:00 p.m. EST (10 a.m. PST) — Register
Thursday, December 2, 1:00 p.m. EST (10 a.m. PST) — Register

The Toronto Chapter of the Documentary Organization of Canada and 3D FLIC (3D Film Innovation Consortium) invite you to 3D for Real: A Stereoscopic 3D Workshop for Documentary Filmmakers, a one-day crash course taking place on November 25th at the NFB Cinema (150 John Street in Toronto). Designed to take you through the practicalities and challenges of this fast-growing sector, this workshop will cover all steps of the production pipeline and is a not-to-be-missed opportunity for directors, producers, DOPs, editors, and aspiring stereographers. The day will include presentations by industry leaders and award-winning documentarians. The workshop, along with hands-on product demos and trend-setting case studies will bring you one step closer to the art & business of good 3D doc making. Tickets for this workshop are $75.00 for Doc Canada members or $100.00 for non-members. The programme schedule includes:
Stereo 3D: an Introduction – Enter the world of stereoscopic 3D with award winning documentary filmmaker York University Professor Ali Kazimi (3D FLIC Lead Filmmaker)
So what's a Stereographer, anyway? – An interview with John Reeves, stereographer for CBC's Queen Elizabeth in 3D

Case Study: A Park For All Seasons, Gwaii Haanas National Park – Behind the scenes on the first S-3D episode of this innovative nature series.
Taking up a New Post – Kenneth MacNeil of Creative Post shares the ins-and-outs of the S-3D post-production process.
The Future of 3D: a Panel Discussion – A look at the what's ahead for S-3D Documentary Production.
Product Demos (throughout the afternoon) – The 3D Camera Company and 3reedom Digital will show off the latest and greatest in 3D Production Rigs.
DOC is offering a special membership promotion at the 3D for Real Workshop: if you sign up for your regular-priced 2011 membership at the event, you can get in at member prices for this event (to qualify for member pricing on the 3D for Real Workshop you must bring a cheque for your membership dues with you to the event).

Finally, speaking of 3D and news that I missed on Friday, there was cause to celebrate another landmark for The Communitech Hub as the new innovative 3D HIVE from Christie Digital Systems Canada Inc. (Christie) was officially commissioned. The equipment was installed in part thanks to $280,000 in funding provided by the Community Adjustment Fund of the Federal Economic Development Agency for Southern Ontario, through which $1 billion in funding is being provided across the country over two years to address short-term economic needs of communities impacted by the global recession.
"The Communitech Hub will foster the development of important new digital media products and is expected to create thousands of new jobs in Canada over the next five years," said Peter Braid, MP Kitchener-Waterloo. "This investment will support entrepreneurship, create jobs and further strengthen this region's reputation as a centre of innovation."
Also participating in the celebration was Harold Albrecht, MP Kitchener-Conestoga. The Hub occupies 30,000 square feet of a renovated downtown Kitchener Tannery building and houses start-up companies, small-medium enterprises, and global multi-nationals with the goal of accelerating the pace of development of new ideas and products in the digital media sector. Christie is a founding partner company and has provided advanced visualization tools and integration expertise to help startup companies explore new concepts and advance their programs.
"We look forward to seeing the results of collaboration and mentoring at The Hub which will undoubtedly produce new initiatives in digital media and contribute to long-term success, not only for the vibrant high tech community locally, but for Canada on the international scale," said Gerry Remers, president and COO, Christie Digital Systems Canada Inc.
Read the rest of this entry »
Currently 0 Comments - Share Your Thoughts
posted in Action Adventure, Associations, Education, Events, Everyone, Government, National News By: Tami |

Print This Post