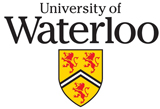 The entire digital media community is abuzz this morning with the news that 23 year old KiK founder and former Waterloo University student Ted Livingston has donated $1-million USD to the University, with the donation being earmarked to help fund VeloCity, the unique residence-based program for student entrepreneurs.
Livingston's generous support of VeloCity has inspired the University to establish a $1-million seed fund for student startups. Over the next several years the fund will provide at least 30 student ventures with $25,000, four months of office space, incorporation services and mentoring. In addition, 75 student startups will receive $500 prizes as part of the first stage of the screening process.



VeloCity is a unique residence-based program for student entrepreneurs that was established at the University in 2008. The start-up incubator is a community that educates and connects talented, like-minded students with each other and with the surrounding start-up community, support and mentorship. The founder and CEO of Waterloo-based Kik Interactive Inc., Ted Livingston, studied mechatronics engineering at Waterloo between 2005 and 2009 and founded Kik (then called Unsynced) while in the VeloCity residence in Winter 2009.
"This is truly a wonderful development for our students who dream of launching their own successful startup," said Feridun Hamdullahpur, president of the University of Waterloo. "Ted exemplifies the entrepreneurial spirit that so often defines Waterloo and the need to give back that we seek to encourage in all our students." Read the rest of this entry »
Currently 0 Comments - Share Your Thoughts
posted in Business News, Careers, Education, National News, scholarships By: Tami |

Print This Post